We are finally ready to let you in on our exciting news!
We are having a HUGE party on July 28 to celebrate NOT going back to school.
The party will take place on Facebook from 6-8 pm EST.
We have teamed up with some major homeschool companies and moms to bring you a party filled with goodies.
You will want to mark your calendars now so you don't miss out on the
fun, freebies and giveaways of nearly $1,000!
Be sure to grab the button and share this AMAZING event for homeschoolers!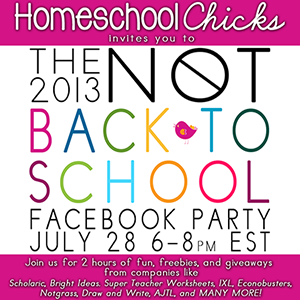 <div align="center"><a href="http://www.homeschoolchicks.com/" title="Homeschool Chicks"><img src="http://i1146.photobucket.com/albums/o527/hlpharris/not-back-to-school-invite-layers_zps9bf38de2.png" alt="Homeschool Chicks" style="border:none;" /></a></div>